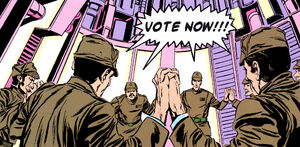 The Consensus track page is a forum for organizing vital discussions and debates, especially those concerning new policies or site-wide improvements. In contrast, the Senate Hall is a place for general-purpose talk.
Administrators: When closing a Consensus track thread that results in a change of Wookieepedia policy, please follow the instructions on Template:CTarchive, and be sure to update Wookieepedia:Policy and consensus updates. Also, please consult Wookieepedia:Consensus when the outcome of a forum is unclear.
---
Ad blocker interference detected!
Wikia is a free-to-use site that makes money from advertising. We have a modified experience for viewers using ad blockers

Wikia is not accessible if you've made further modifications. Remove the custom ad blocker rule(s) and the page will load as expected.