July's Wookieepedian of the Month:
Congratulations from all of us here at Wookieepedia!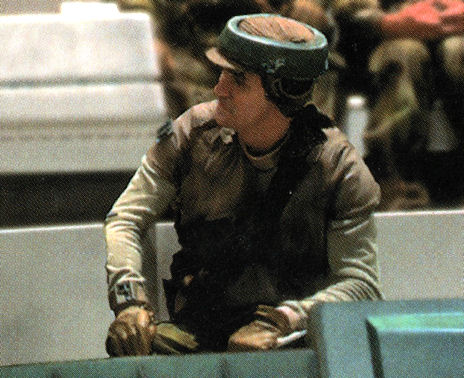 Corporal Delevar was a Human male who served with the Alliance to Restore the Republic during the Galactic Civil War. Trained as a medic and a scout, he served with General Crix Madine's SpecForces. In 3 ABY, he was part of the force assigned to the Alliance High Command's Echo Base on the ice planet Hoth. Surviving the Battle of Hoth, Delevar regrouped with the Alliance Fleet, and remained stationed with the armada for a year. In 4 ABY, the Alliance learned that the Galactic Empire was constructing a second Death Star in orbit of the forest moon of Endor, and decided to strike at the superweapon while it was still being built. However, the half-completed battlestation was protected by an energy shield generated from a facility on the surface of the moon. A strike team was organized to infiltrate the moon, and deactivate the shield generator. Delevar volunteered to be part of the team; although he was considered to be a rookie soldier by Major Bren Derlin, the unit commander, he was highly recommended by General Madine.
Delevar attended the briefing aboard the Alliance
flagship
Home One
, during which Madine laid out the intended plan of attack, and he later traveled to Endor on board the stolen Imperial
Lambda-class T-4a shuttle
Tydirium
. Following an encounter with an Imperial
scout trooper
patrol, Delevar and the strike team separated from the command crew led by the former
smuggler
, General
Han Solo
. Following orders to rendezvous with the general at 0300, the strike team avoided Imperial patrols until they encountered an
All Terrain Scout Transport
while making camp for the night. Delevar managed to subdue the walker with a clean shot into its open
cockpit
with a
smoke canister
fired from a
Caspel launcher
that forced the crew to abandon the vehicle. Delevar then participated in the ground engagement of the Battle of Endor, which saw the destruction of the shield generator that subsequently allowed Alliance
starfighters
to destroy the Death Star.
(Read more…)